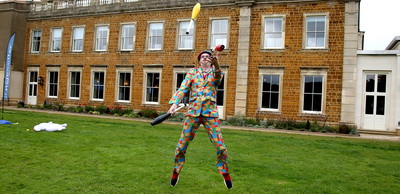 My name is Steve the Juggler (also known as Stevie Vegas). This page has been designed as a starting point to show you all the different types of Performing and Workshops that I can run. You may find that you require a pick n mix of several of these activities for your event, so please take your time and have a browse through these pages (all of which can also be accessed from the JUGGLER FOR HIRE Dropdown Menu above) to come up with some ideas or fill in the form at the bottom of the page with some event information and I can respond quickly with some ideas and a costing!
 

Circus Skills Workshop – A session where the participants can learn how to use a wide variety of Circus Skills/Juggling equipment (click the picture on left for my main props taught)!  Lots of different ways to run these sessions explained (so they are suitable for many different occasions)
 

Steve the Performer –  I have many different types and styles of performance and this page lists them along with further links. I have developed several 30min Shows which are ideal for School's, and I also have up to 75min Gospel Juggling show which can be broken down into smaller pieces if required for your occasion! (My performance showreel is at the bottom of this page if you scroll down) – enjoy!
 

Brownies/BB/Scouts –   Most Children/Youth organisations in the UK have a Circus Badge or will accept certain "juggling activities" as credit towards a Skills/Hobby/Performance badge. This page contains information for all the official badges and how I can assist in helping earn your Badge :

 

Rainbows / Brownies / Guides
Beavers / Cubs / Scouts / Explorers.
Boys and Girls Brigade

 
Christian/ Church Juggling – I am a Christian and can perform a Gospel Juggling show for up to 90mins at your event. This particular God given skill is particularly effective at Church Outreaches or even during the Sunday Service as the Children's address, although adults will get just as much out of it! Details of my Testimony, and my 1hr One Man Shows also.
Schools/Nurseries/Playschemes – Hire Steve as "Juggler for a Day" (or half day) and he can put on several workshops for different year groups, perform in the School Assembly, and put on his 30min Schools Show (various themes available).  If you are having a Healthy Living Week, Rewards Day, Transition Day or want to give the pupils a fun activity after some stressful exams then check this page out for lots of ideas!

 

Fire and Glow Performances –   Great to use indoors (glow) or outdoors (fire and/or glow) to make your night-time event even more memorable, especially as a warm up for a special occasion such as the Fireworks Display or CHRISTmas light switch on, or as a fantastic way to end your Circus Skills Workshop or Birthday Party. See Fire Showreel at the bottom of this page!
 
Parties/Birthdays/Weddings – Details of all the different activities I can organise for your Birthday Parties, Special Events, Weddings and other special occasions!
 
Private Juggling Lessons (as a gift) – You can hire Steve the Juggler as a present for a 1hr lesson. I can provide you with a personalised certificate that can be printed out and put in with a Birthday /CHRISTmas Card for the person to open on their present day. Several types of lessons and options available. A unique experience for your loved one!
 

Private Lesson to assist in recovery from Brain Injury, Stroke and MS – Some patients are now being advised by their Doctor that learning a new skill that they have always wanted to try (so that they will look forward to it) will aid them in managing their health or aiding their recovery.
 
Training / Teambuilding / Motivational Speaking – Details of several different types of training courses I can run for adults and children. Also information provided about my Teambuilding and Motivational Speaking workshops. Also available for Corporate Events.

 

Courses include: 
How to Run Circus Skills Workshops (1 or 2 Day)
How to Perform Christian Juggling (1 or 2 Day)
Circus Skills Course (5 x 2hr Sessions)




Giant Bubbles Workshop – Available as an add-on to your Circus Skills Workshop. More details on the Giant Bubbles Workshop page.
 

Walkabout Entertainment –also known as Mix n Mingle or Meet and Greet.
A slightly different kind of entertainment more akin to the Wandering Minstrel! This particular skill is useful for your event where you want to create a buzz or a bit of an atmosphere. I simply wander amongst the crowds at your event and stop and entertain small crowds and individuals at random. Particularly useful for events where there are long queues as I can keep these people entertained while they wait!
LATEST NEWS
– I reached the
Finals of the UK Pun Championships in both 2019 and 2020 – here is a Highlights reel of my best jokes on each night, along with my Performing (Juggling / Magic) showreel added on the end. All in just under 10mins, so put the kettle on and be entertained!
Here are more of my Comedy Juggling Video clips. Please check out the Juggler for Hire Section of my website and consider me for your event (and follow me on Social Media (see below)…
Why not start by viewing my Performance Showreel below (approx 2mins)!
If you have an event in mind, then please get in touch (there is a quick enquiry form at the bottom-right of this page or you could e-mail/phone (details at bottom-left of each web page) Happy to brainstorm and come up with suggestions to fit your event perfectly if this would be helpful, as there are a lot of Juggling Services to choose from!