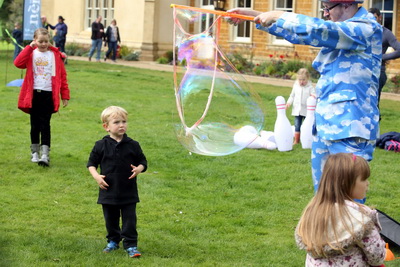 Playing with Bubbles whether as a grown-up or a Child will never fail to amuse and entertain (it's what the word "WOW" was invented for!) In this Giant Bubble Workshop, you can watch Steve create giant bubbles and give a tutorial, then it's over to you! Workshop has to take place outdoors (ideally on grass) as it can get quite slippy underfoot otherwise and safety must always come first!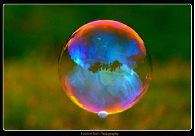 Suitable for all ages. The younger children will be more happier chasing and popping the bubbles than creating them, and some little wands are provided for them if they wish to give it a try. The Children and Adults will definitely want to compete with each other to make the biggest and best bubble of the day – a fun time for everyone!
This workshop is available as a 10-30 minute add-on session to another activity (such as my Circus Skills Workshop or hiring me for a performance or Walkabout Entertainment). It is for 5 participants at a time, and they are switched over every few minutes until everyone has had a play. As this activity is weather dependant, this is why it is part of other activities, so that if it is not possible to create Bubbles, we have an instant backup plan!
For something a bit different and unique for your special event, birthday party, fun day etc, then consider Giant Bubbles (whether as a workshop or for me to create the bubbles and make everyone happy!

Bubbles work in all kinds of weather (except rain unless it's just a light drizzle!) They love humidity (foggy misty weather is the best so it will work throughout the year!) An overcast sky is much better than a really hot sunshiny day. A slow breeze is perfect.
More details available on request (just POP an enquiry in my direction!), and remember… The Sky's the Limit!