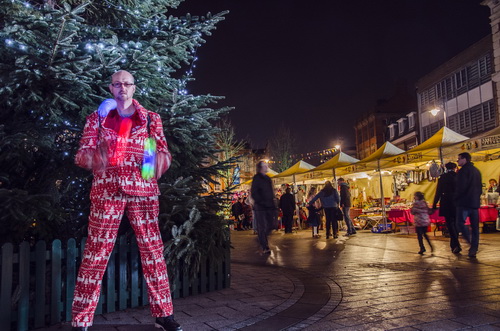 My name is Steve the Juggler aka Stevie Vegas. This page is a starting point for finding out about all the different types of performing and entertaining that I can do to enhance your event. You may find that you require a pick n mix approach where I also run Circus Skills Workshops and do Walkabout Entertainment at your event.  You can even choose which Suit I wear (as I am "The Entertainer who SUITS every Occasion) – see video clip below!)
>
Experience the art, style and skill of one of the UKs finest performers / entertainers (even if I do say so myself)! I can be hired to perform either on stage for an audience to watch and marvel or as a Walkabout Entertainer getting in amongst the crowd and giving a more personalised feel to your event. Shows can last anywhere from 3mins to 45mins (Christian Juggling up to 90mins with a 15min interval) and can be repeated throughout the day or  pick n mixed with a wide variety of my other Juggling services such as Circus Skills Workshops and Walkabout entertainment to create extra  added value to your event.
Here is a list of some of the props you may see during your show. Please note that I am constantly learning new skills and new routines can be specially written for your event to fit in with particular themes you or requirements you may have, and in fact some of my best routines have came about when I have had to work to certain requests so I look forward to considering all enquiries!
Juggling (with   Balls, Scarfs, Rings, Clubs, Binbags, teddy bears, toilet plungers, eggs, anything else that Steve can lay his hands on!)
Spinning (toothbrushes, poi, plates)
Manipulating (devilstick, diabolo, parasol & ball, Flingo, Pindaloo, Astrojax, Jitter-Ring, Dapostar, Kendama, Kururin, Plate Manipulation, Cigar Boxes, Torroflux)
More danger! (rola-bola, knife juggling, fire juggling, stacked rola-bola)
Fire Juggling (balls, devilstick, clubs, poi, staff, fire fans, fire cross devilstick, fire levistick, fire skipping rope)   – Find out more about my Fire Juggling Show
Glow Juggling (Clubs, Rings, Balls, Pixel Poi, Devilstick, Space Whip, Pivot Poi, LED Gloves, Kendama, Cigar Boxes, Rope Dart, Staff, Diabolo, LED Hat! etc)  Find out more about my Glow Juggling
Magic
Puppetry (accompanied by Rover in his Doggy Bag and Mr Parrot!)
Performing to Music, especially mashups of recent chart hits that I have created!
Throughout the shows, there is lots of Comedy, Magic, Music and Audience Participation! I can supply my own Sound System and equipment for the performance (no need for an electric socket, as I can charge up the batteries in advance), so all you need to do is point me to the performance area and let me take care of everything else! This is good clean fun and completely tailored for your event to suit your particular audience.
Here are some further examples of my range of Juggling Performances:
30min Schools Show – This show can be specifically tailored for just one age range, or for the entire school. If you would like the show tied in with a particular theme such as  friendship, healthy living etc then the show can include these positive messages (just ask)! More info on the 30min Schools Show here. 5 Different shows currently available (including the very popular "History of the Circus". Happy to consider requests for routines/themes/messages you would like performed!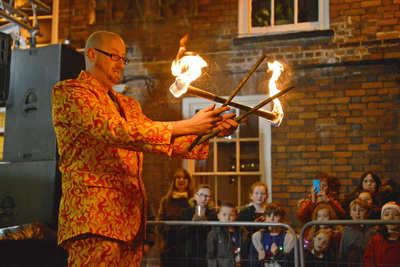 Walkabout Entertainment – A slightly different kind of entertainment more akin to the Wandering Minstrel! This particular skill is useful for your event where you want to create a buzz or a bit of an atmosphere. I simply wander amongst the crowds at your event and stop to entertain small crowds and individuals at random. Particularly useful for events where there are long queues as I can keep these people entertained while they wait (eg Music Festivals, Store Openings, Funfairs, Santa's Grotto)!   Find out more about walkabout entertainment. Brilliant for Christmas Light Switch-on's and Funfairs and Festivals!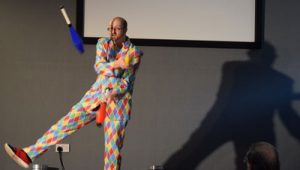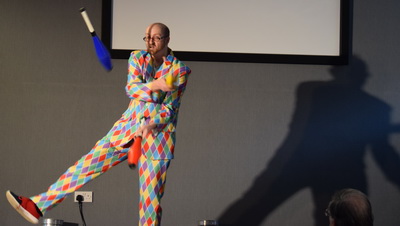 Show as part of Circus Skills Workshop and/or Parties – If you intend on hiring me to run a Circus Skills Workshop at your event, it could be finished with my own show, or even a talent show put on by the participants themselves with some expert training from myself! A great chance for the participants to immediately put into practice what they have just learned. The show can be targetted at a very specific age range if required (so that they enjoy it the most), and is good clean entertainment that everyone will enjoy!
Christian Juggling – I am a Christian and can perform a Gospel Juggling show for up to 90mins (inc 15min interval) at your event. This particular God given skill is particularly effective at Church Outreaches or even during the Sunday Service as the Children's Address or replacing the main Sermon!  Much more information is on my Christian Juggling page. You can choose the Theme and if I don't already have a show with the theme, then you are giving me a chance to expand my repertoire and get creative – Go on, try me!
Fire and Glow Juggling –   Great to use indoors/outdoors (glow) or outdoors (fire/glow) to make your night-time event even more memorable, especially as a warm-up (pardon the pun) for a special occasion such as a Fireworks Display or CHRISTmas light switch on, or as a fantastic way to end your Circus Skills Workshop or Birthday Party!   Find out more about my Fire and/or Glow Performances.
Weddings – Hiring Steve to perform at the entrance to the main event as a meet and greet alongside any Ushers, or during the Wedding Reception to keep the kids occupied while the meals and/or speeches are taking place can take some of the stress out of your BIG occasion! If you would like me to wear my full kilt outfit (as I am a Scotsman) then I can do this also. Visit the Parties/Birthdays/Weddings page for more ideas!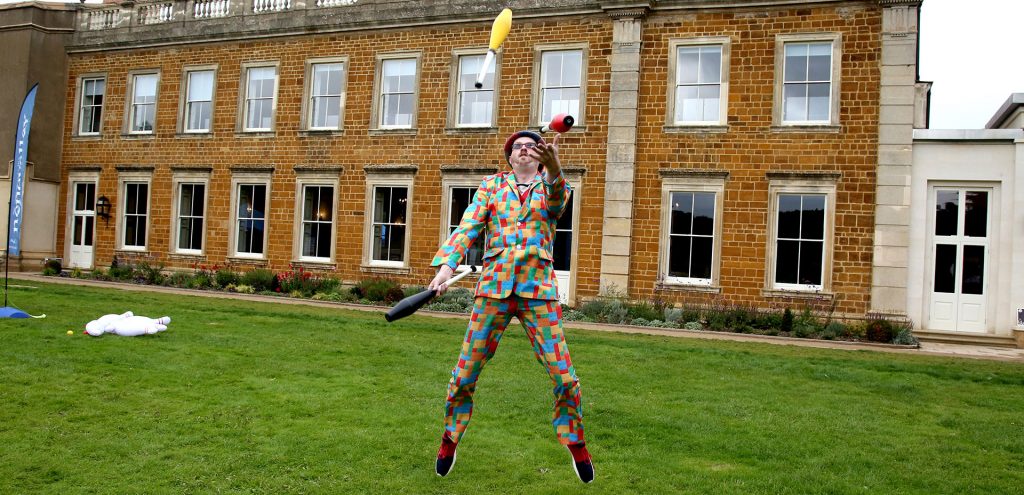 LATEST NEWS
– I reached the
Finals of the UK Pun Championships in both 2019 and 2020 – here is a Highlights reel of my best jokes on each night, along with my Performing (Juggling / Magic) showreel added on the end. All in just under 10mins, so put the kettle on and be entertained!
Here are more of my Comedy Juggling Video clips. Please check out the Juggler for Hire Section of my website and consider me for your event (and follow me on Social Media (see below)…