British Juggling Convention 2006 – Cornwall
The 19th BJC took place at Dragon Leisure, Bodmin, Cornwall from 20-23 April 2006

Getting There
I was stuck in a quiet coach for my journeys to and from Bodmin Parkway (from Stirling). Thankfully, there was only one change each way, so I could just settle in my seat and enjoy a 10.5hr train journey! The Void greeted me as I arrived. Allen Goldie texted me just as I was reaching the registration desk to let me know where he and his mate Niall had pitched their tents, so I set up beside them. Once I had unpacked, I spent a good 3-4hrs practicing my juggling (mainly ring juggling stuff, and improving on my 5 ball juggling and 3 ball in one hand.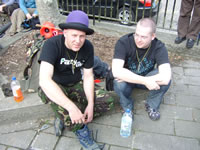 Workshops
These are the workshops I attended during the convention. I also decided to run a workshop!
| | |
| --- | --- |
| Christian (Gospel) Juggling – Stevie Vegas | My workshop! I had decided to run this workshop to see if there were any other Christians at the Convention who maybe hadn €™t thought about using their Juggling talents to spread the Gospel. 6 people turned up and it was a great session. |
| Rola-Bola – Mini Mansell | Got a fantastic 3 second movie clip of Luke leapfrogging Mini onto a rola-bola and then falling flat on the ground! Excellent workshop and I now have lots of tricks to practice. |
| Beginners Plate Manipulation – Nigel | Useful as a refresher course as I participated in this workshop last year. |
| Performing for Hobbyists – Matt Hall | Excellent stuff. I took plenty of notes. Most of the people in the room were also not hobbyists! |
| Compering – Luke Burrage | Lots of useful advice that I will keep in mind should I ever decide to compere a show. |
| Playing Card Memorisation – Guy G | Useful workshop for if I ever decided to memorise packs of cards, as I now know the technique! Guy took us on a journey round parts of the Leisure Centre to give us visual signposts to hang our memorised cards on. |
| Ball Multiplex | Lots of useful idea's and my multiplex has improved considerably! |
| Kendama – Matt Hall | I attended this workshop at the Scottish 2005 convention, and had been trying ever since to find somewhere to buy a kendama. Mini brought a load to this convention so I bought 3! The tricks are not easy, and it gets quite frustrating, but immensely satisfying when a trick works! It's great watching a master of this discipline in action (even though Matt is only a brown belt, he is still awesome!) |
| Street Show Performing – Mario | Lots of useful tips on gathering and keeping a crowd. |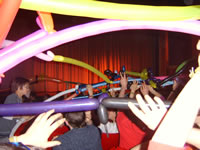 Open Stage
A hat manipulating guy from Swamp Circus was the Compere. The acts were good, but I can't remember many of them except for Aaron Greg who was doing a very funny routine involving juggling clubs, peanut butter, shrimps and jam! Tonights open stage gave rise to various renegade catchphrases for the rest of the convention, including:
" pump up the jam"
"ask Tom"
"put a shrimp on it"

Jugglejam
I hadn't seen this before. Some music is played, and anyone can get up and do any trick they want. The act shouldn't last longer than a minute, and the style of music changes quite regularly. Seeing the edited highlights the next day in the Cafe showed that this event will be a great DVD extra!
*****************************************
FOLLOW / LIKE / SUBSCRIBE / ENJOY!!







You can hire Steve the Juggler aka Stevie Vegas – for more details try…
Juggler for Hire section  –  (based in the United Kingdom)
*****************************************
Juggling Games
These took place in Bodmin Town Centre. I walked into town with Martin Millard. I then met up with Niall, and Allen who was dressed in his Tartan Juggler costume. Void did an excellent job compering the games, and they were all played in good spirit. I nearly won the highest diabolo toss, and came about 6th in the Devilstick propellor game. Mad Pangea took care of the music and kept the party vibe alive throughout the whole event! Unicycle Gladiators got quite violent, and Aaron Greg easily won the money juggling contest. I got quite far in the money juggling, being sponsored by Niall with  £2 coins!

British Young Juggler of the Year Show
It seemed well organised at first, but was 30mins late in starting due to a  €œdrops sweepstake where people could guess the amount of drops that all the acts would make in total. This spoiled the very first act on stage, as people were shouting out how many drops he was doing! The 13 acts were all good, and you could see the transformation in sheer ability in the acts that had performed both this year and last year. My favourite act by far was John Peat who did a 6 ball mills mess. He won the overall competition. Lucas did his act dressed as a girl. Arron Sparks cigar box routine was the judges favourite. Zac did a 3 diabolo routine, and there were 2 sets of twins that individually competed in this competition. The drop count was 117!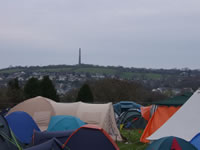 Renegade
Compered by Aaron Greg. Not many people stuck around for this renegade as the British Young Juggler of the Year show had started late and overran massively. It took a while for people to drift back and begin to participate in this renegade. It didn't matter, as Aaron had plenty of charm and ability to keep us all entertained and slowly draw out acts from the audience.

Public Show – Gravitate (Regal Theatre)
I stewarded to direct people to buses for this event. It was held up when we all arrived, so we had to wander the shops for an hour before we were let into the Theatre! There was the usual balloon antics before the show started, and one great moment was when Jak from Jesters had his shop's name made out of balloons, and fixed it to the front of the stage! The venue didn't hold enough jugglers (capacity of 350), so the show would be performed twice today, and we were at the first showing. Matt Hall did a good job of compering, but it was always better when he stopped introducing people and did some performance pieces (especially his Kendama routine!) Highlights of the show for me were:
Moon Balloon  a guy entering a large balloon!
Luke and Pola  The art of juggling. A well thought out performance piece
Bounce Jugglers These guys were amazing!
Ryo Yabe  Awesome 3 diabolo tricks.

Summary
The Dragon Leisure Centre was a good venue. It was well laid out, and all the workshops were within easy walking distance so you could dash between venues when each workshop finished! The Cafe was excellent and reasonably priced. Lovely food, and a great view of the 24hr juggling hall while you ate, as well as a TV playing juggling DVDs. One slight complaint would just be that the tent for the renegades and shows was way too small and cramped, and so most people had to stand to watch the shows, or suffer from leg cramp!
There were regular newsletters produced throughout the convention. I only managed to see one, which was quite funny, and it had the following sentence at the bottom:
Anyone encountering a Ms Hayley Kneale is requested to pass on the following information to her ˜Everything's going to be fine, Hayley!"
Everything was fine Hayley! You and your team did an excellent job. A big thanks to everyone involved.
British Juggling Convention
British Juggling
Conventions