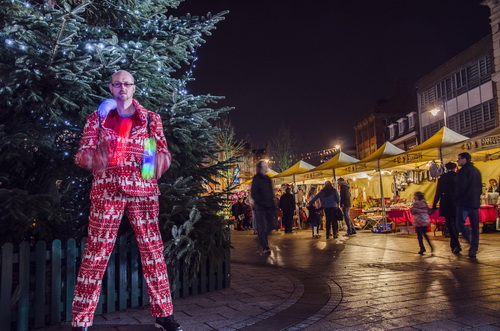 Here is a bonus clip of when I (Steve the Juggler aka Stevie Vegas) appeared (or didn't appear) on the Mystery Celebrity Round of the BBC's Question of Sport. I was asked to Glow Juggle, and then they made it look like the famous sports star was performing all my wonderful skills!  Can you guess who the Sports Celebrity is?
Glow Juggling is a safer alternative to Fire Juggling and it can be performed indoors or outdoors. Needless to say it works best when it is dark, so it is a more popular option during the Autumn/Winter months! The Glow Juggling props can be set on certain colours (useful if you want the equipment to glow in your brand colours) or to strobe or go through a colour cycle creating a dazzling light display. I provide all the props, so you just need to show me where to perform and I will take care of everything! Whatever you require, I am sure you will give me a glowing report when I am finished 🙂
This video clip highlights some of my Glow Juggling skills. Enjoy!
---
During a performance, any of the following equipment could be used:

 

Glow Clubs
Pixel Poi
LED Hat (can be customised with a message!)
Glow Balls
Glow Diabolo
Glow Staff
Glow Poi (strobe and rainbow colours)
Glow Rings
Glow Devilstick
Catching fireflies (magic trick)!
Glow Pivot Poi
Finger Tutting (Glove work)
Glow 360 Orbit Lux
Glow Space Whip
Glow Juggling Performance
I am available to perform a 10-15min Glow Juggling Show and then follow up with some Glow Juggling Walkabout Entertainment. More details below.
The Glow Juggling performance also features a bit of magic, plenty of comedy and music. In the build up to the Glow Juggling performance, you may also want to consider hiring Steve as a Glow Juggling Walkabout  Entertainer or to run Circus Skills Workshops. Be sure and make the most of Steve while he is at your event to create even more added value!
Glow Juggling Walkabout Entertainment
I can be hired to wander around your event at random entertaining the crowds and individuals all over the place! These little interactions with small pockets of people help make your event even more memorable! Walkabout entertainment works particularly well when there are queues of people waiting to get on a ride or visit Santa's Grotto, or perhaps for the Bonfire to be lit or CHRISTmas lights to be switched on as I can keep the crowds and queues entertained (especially the children who may otherwise be quite restless) and take the stress out of their wait!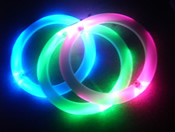 Glow Juggling  Added Extra
A short 5-10min Glow Juggling Show can be added to the end of your Circus Skills Workshop or Party, as long as we make sure that the room (or the sky) is dark enough!