Steve the Juggler is now set up and able to offer Video Content for you! While you are stuck at home during lockdown or if you are based in another part of the world and can't hire me to visit your actual location, then thanks to the wonders of modern technology, I might still be of use to you!
There are currently 3 Personalised Video Activities to choose from, but if you can think of any other ideas, just ask as I like to be creative and try new things! Prices are available on request
Private Video Juggling Lessons
Personalised Messages (Birthday Greetings, Thank-You etc)
Tutorials/Lessons for Educational Establishments, Holiday Camps, Academies etc
As Video Lessons and messages are Private, I don't have any to show, but you can have a look at my YouTube Channel to see me in action with over 200 videos including lots of tutorials! You can follow me on my other social media also (just look at the links down the right-side of the page).
"Steve was a pleasure to work with. He was very accommodating in offering to use whatever video conference platform worked for me. Steve was attentive to my particular needs and tailored his teaching to my level, and he was very encouraging, which I appreciated. He offered instant feedback, answered my questions thoroughly, and gave me specific tasks to work on to improve my juggling. I highly recommend Steve as a juggling teacher." (Dr. Mark Tonelli, School of Music, Millikan University, IL)
Private Video Juggling Lesson
A 10-20min Video Lesson using the video software of your choice (FaceTime*, Zoom, WhatsApp & Facebook Messenger are the most popular choices at the moment, and I am set up on each, but happy to consider others). Some of these pieces of software allows you to record the meeting (Zoom definitely does it) so you can play it back at a later date, otherwise I can be available to answer further queries or send you some notes of what was discussed and practiced during the lesson.
* FaceTime is an Apple Product only, but is the best product I have used so far, with Zoom being a very useful second!
You might be wondering why I am suggesting 10-20mins for the Video Lesson and not a full hour? The aim of a Video Juggling Lesson is to give you the necessary knowledge for how to achieve the trick. It would then be up to yourself to put in some practice, as the trick might not be fully learned during the short video session. You would however know what steps you need to take, and several useful tactics for correcting any mistakes or bad habits that you might fall into, as well as being able to contact me at any time for extra advice! Further lessons can be arranged once you feel ready to move on to the next stage or even try a different skills prop!
Example of Lessons (happy to consider more!):
How to Juggle (this could be with scarfs, balls, rings or clubs)
Tricks with your Juggling prop: A useful follow-up lesson once you have learned how to juggle previously! Hundreds if not thousands of tricks, so we won't run out of lessons once we work out which ones you wish to learn next!
Devilstick/Flowerstick
Poi Spinning (you can use a pair of long socks with a weight such as a tennis ball or orange inside)!
Plate Spinning
"Great teacher! I was struggling instead of juggling, then I contacted Stevie on Instagram for a one-to-one lesson via WhatsApp and now I'm running away to the circus. Ok I'm not, but I can juggle. Total legend". (Richard Woolford - Professional Comedian/Joke-writer)
Personalised Messages (Birthday/Anniversary/Thank-you)
I can write a short 2-3min routine to wish a special someone a very Happy Birthday, or help celebrate an Anniversary, or even as a Thank-you message for people who have helped you out (such as during this current time of lockdown due to the coronavirus).
Whatever the occasion may be, if you provide me with the relevant information you wish me to put across, then I will write and perform a short routine using my entertaining skillset of Juggling, Comedy and Magic to help make the occasion even more thoughtful and special. I even have an LED Hat which can display a message of your choice during the routine!
My first commission was to film a Thank-you message to a Lady in Germany who was kindly fetching groceries for a work colleague who was in self-isolation. Here is a review:

"Steve did a wonderful personalized juggling video greeting card full of word plays that I could send to my friend to surprise her. She loved that unique piece of art especially made for her. It was definitely something to remember." (Iris - Germany).
Tutorials/Lessons/Challenges
for Educational Establishments, Holiday Camps, Academies etc
If you run an educational establishment or activities centre and would like to add to the activities/challenges that you currently offer for your Students/Pupils, then you could consider allowing me to provide a Tutorial on a certain Prop topic (learning to juggle, poi spin, plate spin etc). I am also available to train your staff, so that they can deliver these sessions.
I no longer sell juggling equipment, but I can try to point you in the right direction if you need to purchase the items before the first lesson. Just ask!
As Video Lessons and messages are Private, I don't have any to show, but you can at least have a look at my YouTube Channel to see me in action with 200 videos including lots of tutorials!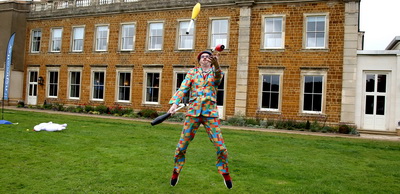 ********************************************
Please contact me (using any of the details or the contact form found below) to find out more including my prices. It would be helpful if you can let me know where you are from, so I can work out the time difference if you are in a different Country to the UK)!