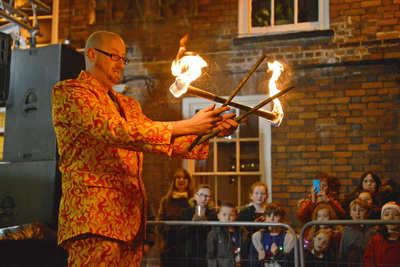 Fire Juggling is an instant crowd gatherer. Steve the Juggler (aka Stevie Vegas) can be hired as a great warm up act (pardon the most excellent pun) before the main activity such as the lighting of the Bonfire or the CHRISTmas Light Switch On! This is good clean entertainment that can be completely tailored for any type of audience. The use of Fire Props along with plenty of Comedy and Musical Mayhem will  help weave together skills and an element of danger and excitement creating a truly memorable event. It is a fantastic added extra to put at the end of a BarBQ,  Birthday Party or Corporate event, especially during the winter months when the nights get darker earlier.
I have Public Liability Insurance cover for £10 million and take every step possible to ensure that the Fire Juggling show is as safe as possible. A 5 minute chat is all I need to be able to create a fire risk-assessment for your event and ensure that all safety aspects are covered!
The video clip above highlights some of the Fire Juggling skills
(from my very early fire juggling days – so I have lots more skills and many more props and routines developed since this). Enjoy!During a performance, any of the following equipment may be used:
Fire Clubs
Fire Balls
Fire Diabolo
Fire Staff
Fire Poi
Fire Devil Stick
Fire Fan
Fire Skipping Rope
Fire Cross Devilstick
Fire Levistick
A Fire Show lasts around 10-15mins. Fire Walkabout (behind a safety barrier such as before a Fireworks Display) can last as long as you require!
The Fire Juggling Show also features a bit of Magic, plenty of Comedy and Music so there truly is something for everyone to be amazed by! In the build up to the Fire Juggling Performance, you may also want to consider hiring Steve as a Glow Juggling walkabout entertainer or to run Circus Skills Workshops.
When in Christian surroundings, I can also perform a Fire Gospel Juggling show. See some examples on my YouTube Channel (link opens in new window).
If your event is indoors, then regrettably fire cannot be used, unless Steve is used at the entrance to the event as a  meet and greet person to WARMLY welcome people as they arrive!   You may want to consider Glow Juggling as a safer alternative.
If you're looking for something a 'bit different' to entertain guests at a corporate event – then Steve The Juggler is your man! We decided to hire Steve for a summer BBQ to mark STEP's 21st Anniversary. His various juggling routines – particularly the one involving fire – went down a storm with attendees.
View more testimonials