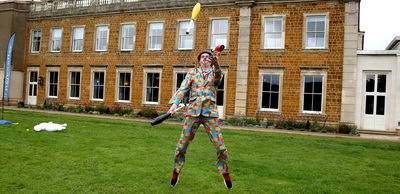 I have entertained and ran Circus Skills Workshops at most types of occasions before (0ver 1800 and counting!) I am happy to offer advice as to what activities would best suit your event. I understand that every booking I take part in is unique, and I am happy  to pick 'n' mix the services I offer, so you can hire me to do a number of different activities at your event, thus providing even more added value!
On this page are some of the many ideas of things I can do on your special day, whether it be a Birthday Party, Wedding, CHRISTmas Party or any other important occasion!
Birthday Parties (I can do all or some of the following during the party!):
Circus Skills Workshops – giving the kids a chance  to learn  juggling, devilstick, plate spinning,  diabolo and many other fun activities. I can put on my 30min show (or even just a 10min performance)   The Circus Skills Workshop can end with a  talent show which all the kids take part in if requested to show off their new found skills! This could be arranged to take place at the very end when all the parents arrive to collect their kiddies! More info on Circus Skills Workshops.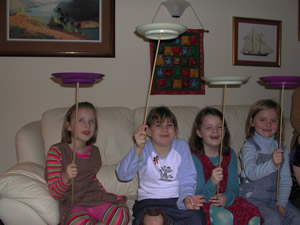 We can play parachute games if there is enough space in the venue. This involves a brightly coloured  parachute and a ball, and plenty of fun and games!
These activities can be slotted in around any other activities you have planned such as food/birthday cake celebrations. Basically, you provide the venue and I will keep the kids occupied and entertained for as much or as little of the time as you require to make it a very happy birthday!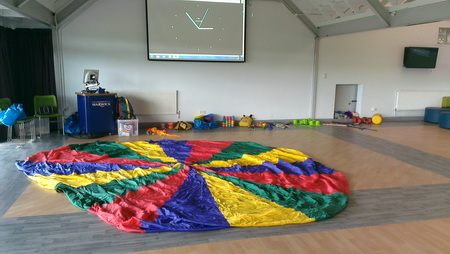 Other Occasions!
Weddings -Who would like quality entertainment at their Wedding Reception? Repeat after me, "I do"! Hiring Steve to perform at the entrance to the main event as a  meet and greet alongside any Ushers, or during the wedding reception to keep the kids occupied while the meals and/or speeches are taking place can take some of the stress out of your BIG occasion! If you would like me to wear my full kilt outfit (as I am a Scotsman) then I can do this also!  Glow Juggling entertainment (if it is dark enough) is quite a popular choice for Weddings. Make your Wedding day even more unique and memorable by giving Steve a try, you won't be disappointed!
---
Church Events: I am a Christian and can perform a Gospel Juggling show for up to 1hr at your event. This particular God given skill is particularly effective at Church Outreaches or even during the Sunday Service as the kid's address, although adults will get just as much out of it!   Much more information is on my Christian Juggling page.
AGM/CHRISTmas Party: Whether it is a staff night out, or a community groups yearly get together, a juggler will certainly liven things up with a Circus Skills Workshop and some entertainment such as a performance, meet and greet entertainment and walkabout juggling. If the event is outdoors, then fire and glow juggling could be considered.
Giant Bubbles Workshop
Available as an add-on to your Circus Skills Workshop. More details on the Giant Bubbles Workshop page.Juggling with a Christian Message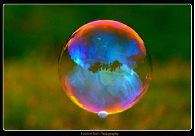 Fire & Glow Juggling – Great to use indoors (glow) or outdoors (fire/glow) to make your night-time event even more memorable, especially as a warm up for a special occasion such as the Fireworks Display or CHRISTmas light switch on, or as a fantastic way to end your Circus Skills Workshop or Birthday Party! Find out more about Fire Juggling and Glow Juggling.
Awards Ceremonies / Store Openings / Product Launches: You could hire Steve to welcome guests on their way into the venue, keep the public bystanders entertained and out of mischief and it is also a very good way to enhance your press coverage for your major event!
TESTIMONIALS
Wedding
"His natural friendly personality and easy-going and polite nature meant that his performance was perfect for a wedding party, and he really helped break the ice amongst the guests"
Birthday Party
"Amy loved her party and you made it really special. Thanks a lot"
CHRISTmas Party
"Steven developed a good rapport with the clients, carers and volunteers alike. Not only did he astound them with his skills, but he also involved them by encouraging a client to join in the plate spinning. This will not be his last visit to our group!"