If you have a group of Christians and would like them to learn some
outreach performance skills, then this course is ideal!
It suits a group of approx 5-15 participants, and is run as either a 1 day (5hr) or 2 day (10hr) session. People obviously gain more skills if they can participate in 2 days worth of training, but it is realised that this isn't always possible!   Time is split between helping participants gain experience in using all the Circus Skills equipment (learning to juggle, diabolo, devilstick, speedcups, poi, plate spinning and a multitude of other props), and the other part of the course focuses on understanding how to perform Christian Gospel Juggling and how to write/adapt routines for your target audience.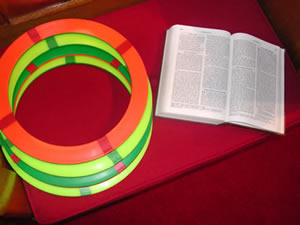 We can work towards the performing of one or more routines that could then be performed by the Participants at a future outreach, or even at the end of the 2 day course (where perhaps family and friends or visitors can attend the final show and see the Participants performing The Message! There are plenty of handouts and resources available, you just need to bring yourselves and an open mind to the possibilities of this unique type of Ministry!
Find out more about Christian Juggling by visiting my Christian Juggling Page. I am available to perform this type of outreach also.
Return to Training / Teambuilding Page
Maybe some people will be able to say such things as the following testimonial after your performance??!
TESTIMONIALS

"Just to say how much our Youth Group really enjoyed your presentation and workshop up in Pitlochry. The Message was very clear, so much that I personally can still remember it now. You have a very unique talent and a clear message with your presentation for which all our leaders were extremely grateful."
Winner of the Creative Arts Competition at the European Puppet Ministry Festival in 2016! Here is my winning performance 🙂
Please visit my Gospel Juggling YouTube Playlist to see a small selection of these routines,
and leave some comments if you have time!
I am a member of
| | |
| --- | --- |
| Christian Jugglers Association (CJA) | Christian Magicians UK. |