Circus Skills Workshops are an ideal addition to a variety of different events such as Birthday Parties, Schools, Fetes, Festivals, Fun Days etc. Experience learning many different skills such as:
Juggling (with Balls, Scarfs, Rings, Clubs and even Binbags!)
Spinning (poi, plates, toothbrushes, yo-yo!)
Balancing (on Rola-Bola / balancing items on hands, fingertips etc)
Manipulating (devilstick, diabolo, cigar boxes, beach flingo, parasol & ball, kendama)
These sessions come in many different styles to suit your particular occasion, so please continue reading to find out more or simply get in touch with some details about your event and I will happily recommend which workshop will work best!
Taster Session (the most common type of workshop!)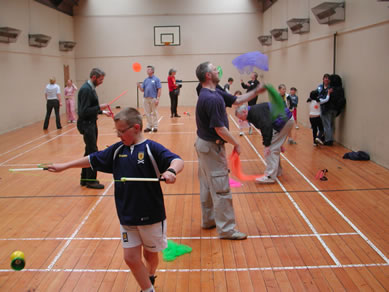 After some confidence-building activities, all the props are demonstrated by Steve, and then participants are either organised into small groups to visit each Juggling Zone which contains a certain piece of juggling equipment (such as the diabolo) or allowed to roam freely and encouraged to try as many different props as possible in the given time period. A  free-time period where pupils get to practice with whatever props they liked best then takes place near the end of the workshop, and if the participants would like, we can put on a little show and tell / talent show at the very end of the session! This workshop can last as little as 20mins (teaching just a few props) up to a full day or week's worth of training!
Drop-in
Ideal for festivals, fetes and informal occasions where people can't commit to staying in the one place for too long as there is lots of other activities happening also! Participants are able to join in and leave the workshop whenever they want. I will focus on making sure that new arrivals to the Juggling / Circus Skills area are made welcome and help them to learn a few skills, then wander around helping the other participants. It is normally found that the same people will keep drifting in and out of the zone at various points during the event, with their confidence growing on each repeat visit! Sometimes I am hired by clients who charge an admission fee for my workshops, which can help offset my fee's, so it can be a good way of providing an activity and recouping some expenditure to keep the Treasurers happy!
Learn to Juggle (or any other prop)
Specific training based on a prop of your choice, such as learning to juggle. Just name your item and a lesson will be tailored to your requirements so that you can master the skill and also be informed of the best techniques and resources for continuing to learn long after this session has finished!

Show Based
Workshops can lead up to a show being performed at the end or on a later date. Participants can be taught how to come up with their own routines based around the skills they have learned, and also how to bring in other skills they may have learned elsewhere to enhance their routines (such as acrobatics, drama, dance, poetry etc). This workshop should ideally last at least 2hrs in order that the participants gain enough training if they are to perform in front of an audience. Alternatively, the Workshop can end with my 30min Show (or even just a 10min performance!)
Circus Skills Badge
If you are a leader in the Boys Brigade/Girls Brigade, Scouts (including Cubs, Beavers and Explorers), Rainbows/Brownies/Guides or Duke of Edinburgh Award Scheme, then I can help you work towards your appropriate Badge (it may be called  Circus Skills,  Performer,  Skills,  Creative,  Entertainer or something similar depending on which organisation you are with!) I wrote 6 Activities for the BB Discovery Programme, and in 2013, I helped revamp the Scouts Circus Skills badge. You can therefore be assured that I am the right person to take you through your sessions! More details are available on my Circus Badges for Kid's Organisations page.
Giant Bubbles Workshop
Available as an add-on to your Circus Skills Workshop. More details on the Giant Bubbles Workshop page.
5 Day Circus Skills Course (1 x 2hr session per day)
I teach juggling and performance skills to the participants and then work alongside them on preparing a show for the final day (day 5) which can be performed in front of an audience. Ideal for School's and Sports camps looking for something  "a bit different". If the participants would prefer not to build towards a show, then the emphasis is changed to building up the skills the participants want to develop. The session could be done over 2 Full Days if preferred, with the Talent Show at the end of Day 2.
Christian Juggling Show during Workshop
I am a Christian entertainer, and am quite happy to add a 5-10min Gospel Juggling show at no extra charge within the workshop time if requested. Please visit the Christian Juggling page to find out more. This is ideal for Church groups and Outreach events.
Parachute Games can be included during the Circus Skills Workshop as an added extra. Please ask in advance, as this is not a prop that is usually brought with me to Workshops!
Top Up Skills Workshop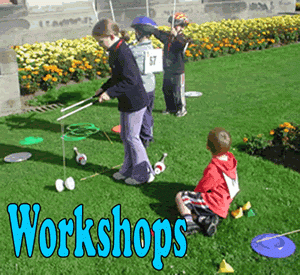 If your participants have already taken part in a Circus Skills Workshop, then they may be interested in topping up their skills! Just let me know what skills the participants have, and I can make sure that they all learn further skills with their favourite props during this session!
Duration: A workshop is best to run for at least 1hr but can last an entire School or Holiday Club day (eg 9am-3.30pm) with the same pupils gaining good skills with a variety of props.
Capacity: Ideal sessions would have between 10-40 participants. To be fair on the participants, I would generally request that at least one or two other adults (such as teachers) are present during the whole session. They are more than welcome to simply participate in the sessions (and have lots of fun learning also), and just be available should they be required for any reason. If you have more than 40 participants, then we could perhaps run several workshop sessions back to back (this could mean reducing a 2hr session to 2 x 1hr workshops, or adding an extra session).
Cost: Please get in touch and I can send a quote or pricelist once I know your requirements.
Circus Skills Workshops can work well alongside many other Juggling services such as Walkabout Entertainment, Training / Teambuilding events and my performances (including 30min show / Fire / Glow Juggling). Many more ideas can be found on the Juggler for Hire dropdown menu at the top of the page.