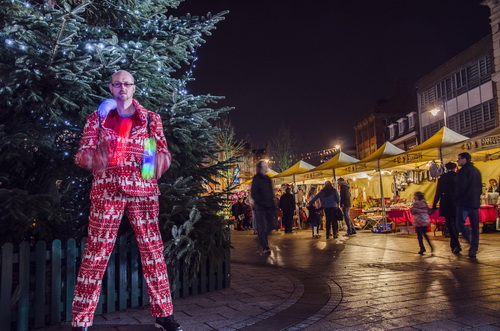 A slightly different kind of entertainment more akin to the Wandering Minstrel! This particular type of performance is useful for any event where you want to create a buzz or an enhanced good time atmosphere. I simply wander amongst everyone and stop and entertain small crowds and individuals at random. This activity adds an extra something which will be favourably commented on when you receive feedback about your event!
Invite Steve the Juggler aka Stevie Vegas to your event, and when he has gathered a small crowd, he can let them have a try of some props   (spinning a plate, a quick juggling lesson etc) in a very informal and fun Circus Skills Workshop style before picking up props and continuing to amaze, astound, astonish and other fantastic words beginning with "A", then I can wander to a different area to repeat all over again for a different audience!
If your event has people queuing for a while to visit Santa's Grotto or to get on a particular ride, then having Steve the Juggler visit the people in the queue and keep them entertained can make the people happy to wait!
IDEAL FOR: Store Openings, Carnivals/Festivals, Parades, Fun Days, Shopping Centres, Pubs/Clubs
Glow Juggling Walkabout: If your event is at night, then Glow Juggling walkabout can be considered. I wander around your event with my Glow Props entertaining everyone. Just letting a kid (or adult) hold a glow prop will see their eyes light up magically, and the performances are guaranteed to attract lots of attention!   This is ideal for CHRISTmas Light Switch On's and Bonfire Nights especially! Find out more about my Glow Juggling entertainment.
Giant Bubbles
Available as an add-on to your Circus Skills Workshop or Walkabout. More details on the Giant Bubbles Workshop page.
Other Ideas (they could be pick 'n' mixed with Walkabout Entertainment)
Performances: Steve the Juggler can put on a scheduled performance (or several) as part of your event, and when he isn't performing, he can be entertaining the crowds with his Walkabout entertainment. See the Performances page to see the wide range of shows available.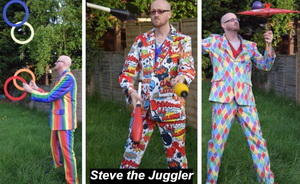 Fire Juggling Show: If there is plenty of space and the event is outdoors, then a fire juggling show may also be considered. Fire Juggling performance works best at night when Glow Juggling could also be considered!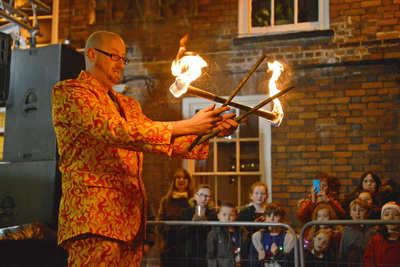 Circus Skills Workshop: I can be scheduled to run workshops at certain times during the day, and perform or do Walkabout Entertainment at other times. This offers several different activities and provides lots of added value making the most of Steve the Juggler at your event! Circus Skills Workshop page.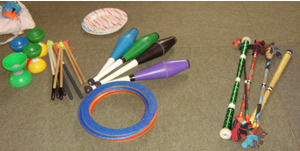 TESTIMONIALS
"Although we had face-paints, play-dough and crafts, the juggling was without doubt the biggest success" "~ 5 Star Show Stoppa (n.) – [1.] Of Superior Quality; First-Class. [2.]
Thoroughly Skilled or Talented in a certain field or area; The Absolute Best."View more testimonials