I have a Facebook page dedicated to finding the best video clips and articles relating to juggling. I usually post at least once per day, and there are currently over 300 subscribers. The following were the best 10 status updates (whether just text, or links to an article, video clip) in 2013.  You can see my latest Facebook Jugglingworld postings by simply scrolling to the very bottom of this web page where I have my RSS Feed. Please visit my Facebook Jugglingworld page and consider subscribing also!
---
The Top Post in 2013 was for my Photo Album of the British Juggling Convention 2013 (click the picture below) in Pickering (North Yorkshire). (587 viewings). Here is a bonus link to my review of the convention, as well as my Video Tour – BJC 2013.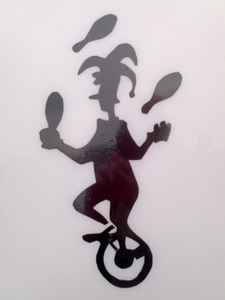 Click the picture to see the BJC photo gallery on Facebook
---
2nd Most Popular Post was a flow diagram picture entitled "Should you Be Practicing Right Now?" which gained 231 viewings.

(c) Joshua Wells
---
#3 was a photograph of an easy way to fill a bucket from a sink using a clean dustpan. This is a fantastic LifeHack idea which has helped me with my fire shows when I have needed to fill my water buckets (a safety measure) quickly without massive spillage! (190 viewings)
---
#4 Post was this Jay Gilligan TEDTalk – The Evolution of Juggling (162 viewings).
Bonus content:  This link takes you to a page where I put all the inspirational TEDTalks I have found from performers (starting with Jay's). If you find any more, worth sharing, then please let me know! Inspirational TEDTalks by Performers.
---
#5 post was a query about PAT Testing as I had suddenly been told that I needed my equipment done for an upcoming gig. Within 10mins, I had found someone local who did it for free – thanks! (136 views)
---
#6 post were some amazing anamorphic illusions. (116 views)
The article that accompanied this clip can be found here – Amazing Anamorphic Illusions.
---
#7 post was the amazing revelation that "A pack of cards has 80658175170943878571660636856403766975289505440883277824000000000000 possible configurations which means every time you shuffle a pack of cards, the chances are, no one will have ever shuffled that configuration before.How do you deal with this kind of knowledge?! Everyday I'm shuffling!" (110 views)
---
#8 post was a query about the Royal Mail Price Hike which proved very costly to my Jugglingworld online store. Thankfully Royal Mail have in recent months, increased the dimensions of items that can now be sent as "small parcels", but it did mean that I had to phase out several large and cheap items from my online Jugglingworld store throughout the year!
---
#9 post was a video clip about Unicycle Nose Hooping (fantastic combo trick)! (100 views)
You can share any video clips of yourselves doing any tricks on the Jugglingworld Facebook page (please do so!)
---
#10 post was the BBC News Article about the Las Vegas Cirque Du Soleil artiste that died during a performance – http://www.bbc.co.uk/news/world-us-canada-23126231 . (98 views)
---
I hope you enjoyed these updates. Most postings on my Facebook Jugglingworld page gain around 30-40 viewings, and it would be great if you would consider subscribing, posting any exciting video clips you find, and liking the status updates! Maybe your favourite clips will appear in the 2014 results page…